Chatbot for online events
Hi, Let's engage your audience!
on Youtube, Facebook or Twitch
"Creamos EventBOT como un Chatbot para automatizar eventos online y reenganchar con la audiencia fácilmente, basado en Facebook Messenger que puedes integrar a tu actual Chatbot de Chatfuel o Chatrace."

Cristian Sepulveda

Botifica CEO
Chatbot for event audience management
Interact and re-engage with your online audience using a Chatbot with Artificial Intelligence from Facebook Messenger and DialogFlow on the biggest Chatbot platforms: Chatfuel, ManyChat and Chatrace (ex SilFerBots).
Start Now using EventBOT in 🇪🇸 Spanish or 🇬🇧 English, totally free if you do things like:
Youtube, Twitch or Facebook Lives
Live broadcasts
Podcast
Webinars
Elearning
You do not need to request email, the entire experience takes place within Messenger, so registration is with 1 click.
Manage the contents of your chatbot easily and intuitively.
Tools that allow you to know your audience, see how they interact or whether or not they attend an event.
Re-engage with your audience by inviting them to new events.
Where can I use EventBOT?
Here are some of the many applications of EventBOT
Improve registration rates and assistance to your Webinars, keep them engaged.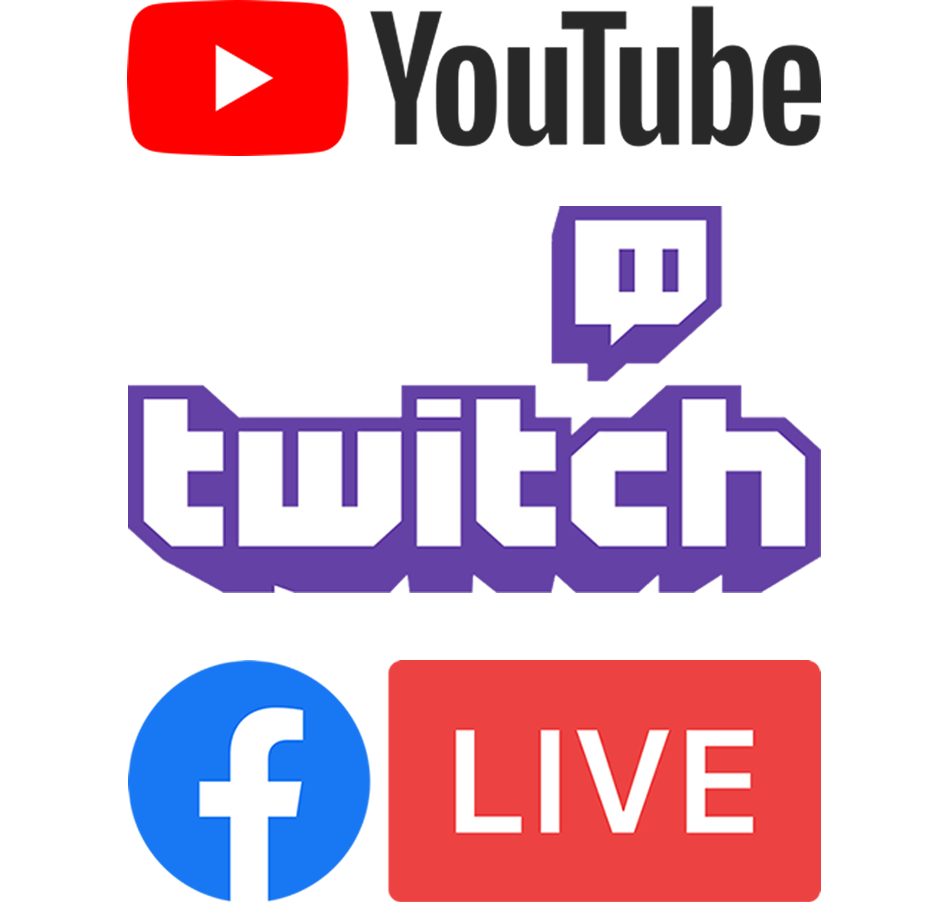 If you do live video on YouTube, Twitch, Facebook or another, then EventBOT is for you.
Use it with your eLearning platform to keep them notified of each class.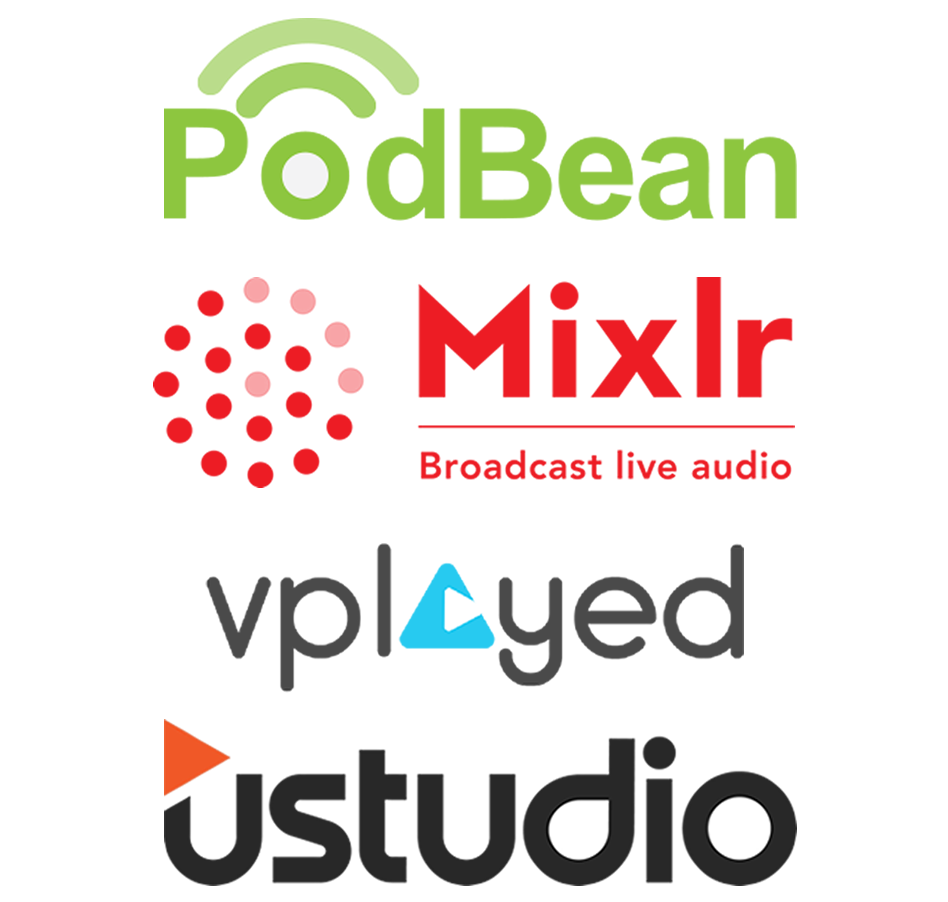 Use EventBOT with your favorite Podcast platform and notify them when you are about to start.
Share and promote your Events
Included in all EventBOT plans, the tool to create direct links will allow you to share and promote your event on Social Networks, Ads, Email, WhatsApp, Website or wherever you want!
The link opens a Messenger conversation between the user and your Chatbot, where they will be shown the details of the event, options to register, receive a notice just before the event begins, see other future or past events and much more.
Crea una cuenta gratis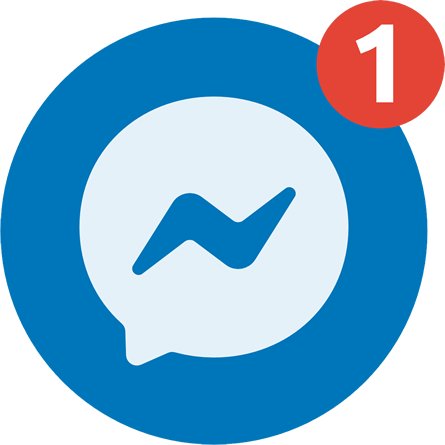 Notifications
on Messenger and Facebook
Notify your audience with Messenger or Facebook just before starting your event.
The user can receive 2 notifications, the first to remind them that the event will start soon and the second just before it begins, which includes a link to enter the online event.
1-click registration
without email 📭
With just 1 click the user is registered for your event without the need to request an email or fill out a form.
Now you can say goodbye to notifications, invitations and registrations with email for your Events. With EventBOT all communication is through Messenger including registration with 1 single click!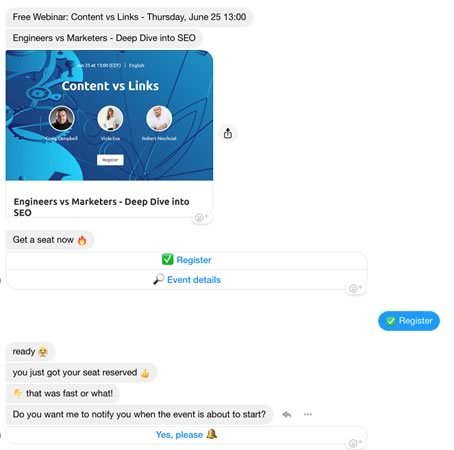 Download EventBOT
Lo primero que debes hacer es descargar EventBOT. Al descargarlo se abrirá tu plataforma de Chatbots con una copia de EventBOT en tu dashboard en el caso de Chatfuel o como plantilla en los casos de ManyChat y Chatrace. Revisa el bloque/flujo llamado ?? README FIRST si tienes dudas.
Free download
Install it on your Chatbot platform
Si ya tienes un Chatbot, entonces necesitas utilizar EventBOT como un Plugin. Simplemente copia el Grupo EVENTBOT PLUGIN
en Chatfuel a tu actual Chatbot desde la copia de EventBOT que acabas de descargar o Instala el template en Chatrace. Si no tienes un Chatbot, entonces no necesitas hacer nada, usa tu copia de EventBOT como un Chatbot. Puedes incluso personalizar tu Welcome Message ?
Connect it to your Facebook page
If you use EventBOT as a Plugin (you already had a Chatbot) you can skip this step. If EventBOT will be your chatbot for events, then don't forget to connect it to your Facebook page.
Create account and login to EventBOT
Once you have all of the above OK, you must create your EventBOT account. When entering for the first time, the system will take you to the initial configuration page, where you will be asked for the chatbot BOT ID and TOKEN and other details to finish configuring your BOT.
Create an event
Define title, image, descriptions, date and time, host and guests for your event.
Share the event
Use the share tool to generate a URL to share or promote your event on social networks, email, WhatsApp, website or wherever you want.
Engage users on Messenger
The user accesses your chatbot and sees the details of the event. You can also check other future or past events that you may be interested in.
The user registers and receives notifications
The user can register for your event and then receive notifications when the event is about to start.
Plans and Prices
per month, in USD$
🍿 Try any of our plans for free