Te presentamos EventBOT para Webinars
"Hola, quiero presentarte EventBOT para Webinars!
Si haces webinars en Youtube, Facebook u otras plataformas de video, entonces definitivamente necesitas un chatbot, que interactúe con tu audiencia, permitiéndole registrarse y optar por recibir notificaciones para cuando tu Webinar en vivo esté por comenzar. Con EventBOT tendrás esto y mucho más."

Cristian Sepulveda

Botifica CEO
1-click registration
without email 📭
With just 1 click the user is registered for your event without the need to request an email or fill out a form.
You can say goodbye to email notifications, invitations or registrations for your Webinars. With EventBOT all communication is through Messenger including registration with 1 single click!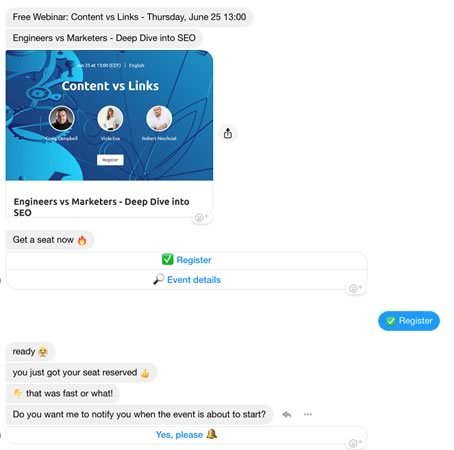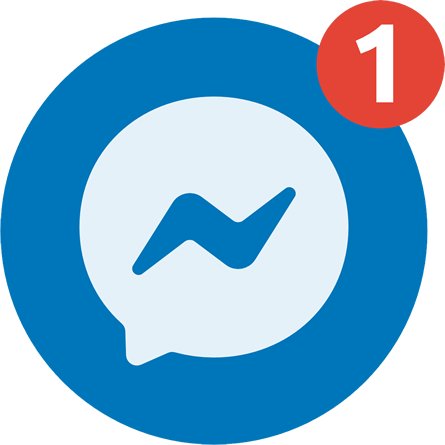 Notifications
on Messenger and Facebook
Notify your audience just before starting your webinar on Messenger and Facebook at the same time.
The user can receive 2 notifications, the first to remind them that the event will start soon, you can choose to notify them 60, 45 or 30 minutes before. The second notification arrives 15, 10, 5, 1, or 0 minutes before the event as configured and will send a link to view the event online.
Share and promote your Webinar
Included in all EventBOT plans, the tool to create direct links will allow you to share and promote your Webinar in Social Networks, Ads, Email, WhatsApp, Website or wherever you want!
El link abre una conversación en Messenger entre el usuario y tu Chatbot, en donde se le mostrarán los detalles del Webinar, opciones para registrarse, recibir un aviso momentos antes de que comience el webinar, ver otros eventos futuros o pasados y mucho más.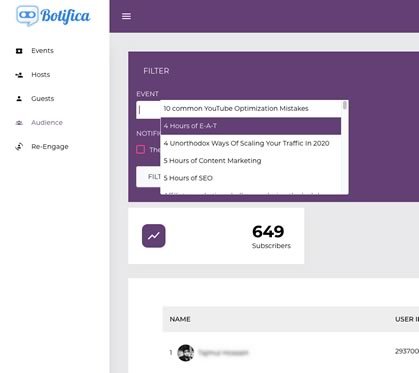 Find out who registered, who received notifications and finally who entered the event.
You can easily see the level of interaction of your subscribers and what is the effect of each promotion campaign of your webinars in real time.
Number of Subscribers
Number of registrations for an event
Number of notified users
Subscribers who entered the event from the Chatbot
% participation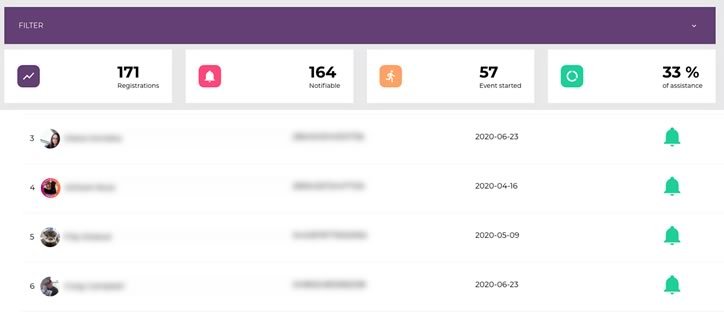 Start now
Comienza a usar EventBOT para tus Webinars totalmente gratis!
Plans and Prices
per month, in USD$
🍿 Try any of our plans for free

Compatible with many platforms
Use EventBOT with many Webinar platforms such as: WebinarNinja, JetWebinar, WebinarJam, Demio, ClickMeeting, GoToWebinar, EasyWebinar, EverWebinar, GetResponse, Adobe Connect and many others.


Download EventBOT for ChatFuel, ManyChat or SilFerBots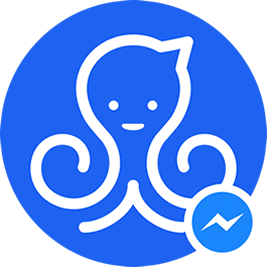 ⚠️ coming soon on ManyChat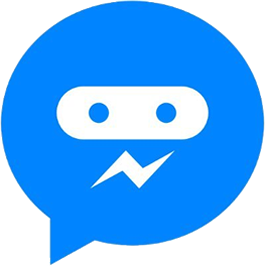 ⚠️ coming soon on SilferBots